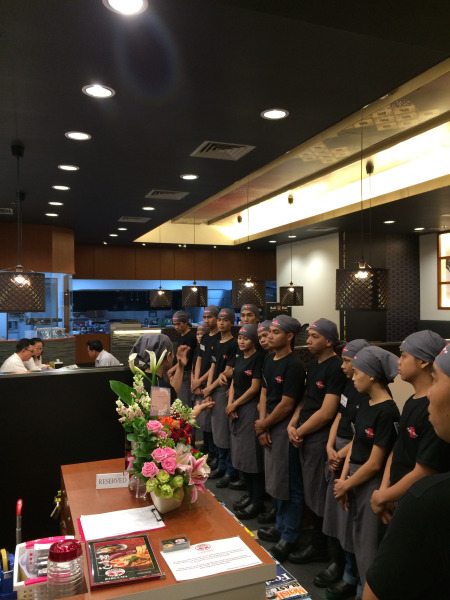 The merit of continuing to conduct the previously mentioned social gatherings with partners (Refer to 04 A social gathering with partners) was -- to attract and hire new talent. Compared to the time (1995 to 2006) when I was managing the Prime–Link restaurants, attacricting & finding employees is getting more difficult now. I often hear the difficulties of recruiting & hiring new talent, not many people attend recruiting information sessions, candidates often cancel interviews, not only is hiring Japanese difficult, but hiring foreigners is challenging and difficult as well. Although people say these things "people are not coming to recruitment information sessions" and "people don't come for interviews", but, in a labor-intensive business, such as the restaurant business, the target of recruitment is already within the company.
They are the so called non-permanent staff: the partners and the part-timers. They have the knowledge.
Indeed, they have knowledge of the company, of the employees, of the operations, and of the customers.
There are no other people that I would be grateful to have as employees.


People who are even slightly connected with the company by some turn of fate.
Are there any managers and store managers who are ready to be involved in such commitment to 'affect their lives'?
I think they will feel as much if management is earnest.
Simply, in companies with good labour conditions only, in companies with good wages only, in companies with sound benefits, even in those companies, work satisfaction is not there, employee relations are strained, and there is a feeling of no growth for one's future.
Companies where you are just exchanging your time for their money.
Does anybody want to work for such a company?
A company where the hourly wages may be a little lower, but work is enjoyable, there are no strained relationships amongst employees, and one gains benefits for one's future. A company where one feels self-growth, useful for one's future dreams. A company where management and shop managers are thinking more earnestly about your well-being than your school teachers or your parents. Even if they finally get employed by another company, they will never forget about the company, management, and store managers who taught them about life. Even after getting a full-time job, they may not feel work-satisfaction with that company, and may return. In fact, I have had many of those experiences at my time with Prime-Link.

We want to be such an organization, and if we were such an organization, would talent recruitment be a problem?
Teaching students and part-timers, not about work, but about life. What they want to know the most, their uncertainties, are their future and their prospects in good certainty. If you would be the one who, while working together, earnestly shares thoughts with them about their future, wouldn't talent be steadily joining your company?
I can almost hear the voices saying "That's easy to say, but...", the point is the degree of seriousness and commitment. People feel it with their olfactory perception; they can feel it with their sixth sense: that person's seriousness and being committed to the company goals.This applies to sales and everything else. Seriousness and commitment without ulterior designs is conveyed to people. Rather than putting on a show without substance, it is more beautiful and can touch people's heart if you live a serious life despite being un-cool and homely. Such an environment attracts talented people.
Show-off=hourly wage, substance=company philanthropy, social recognition value, enjoyable work, spending time meaningfully. They are not just other units of labor force or game pieces; we should care as seriously as parents about, not only employees, but also about the "non-permanent staff and part-timers".
What will happen?  
What happened?

Assentia Holdings .Ltd. Akira Tsuchiya